USER GUIDE
Patrwm is a data sharing platform for smart towns and smart places across Wales. It collects data securely from public WiFi and Internet of Things (IoT) and other Data Sensors. It then anonymises and sorts this data and visualises it in easily understood formats such as graphs and bar charts ready for you to use.
We currently support and share the following metrics:
Footfall (number of visitors)
Dwell time (time a visitor spends in the location)
Temperature
Humidity
Particulate levels
Patrwm presents each metric in its own card i.e. the map that displays the network area map or visits per day. Change the date range by selecting the calendar at the bottom left of the card or change the date range for all cards by selecting the calendar icon at the top right of the page (in the blue header bar).
Change language from English to Welsh by selecting the CY or EN at the top right of the menu bar.

Build your own custom view of Patrwm's data. Just select the large blue plus icon at the bottom right of your screen. This enables you to select different locations and different metrics. The next time that you visit the site on the device it will display an updated custom view. Compare different places across the same metric i.e. age group and gender or just get a detailed view of one place.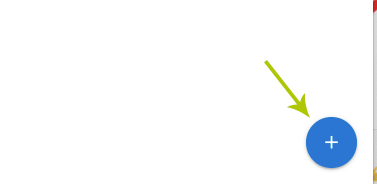 Download the raw data by selecting the hamburger menu (three parallel horizontal lines) on the top right of each card. Data is downloaded as a CSV file which can be easily imported into a spreadsheet or database. You can also export the cards as graphics for use in reports or emails.

Clear the page and start afresh by selecting the large X in the top menu bar.

To add a card select the blue + sign at the bottom left of the screen. You will be presented with a list of the locations that have Patrwm. Select the blue circle next to the place name and a drop down menu appears with all of the options. Select the options and then select ADD. To add more cards just select the big blue + at the bottom right of the screen.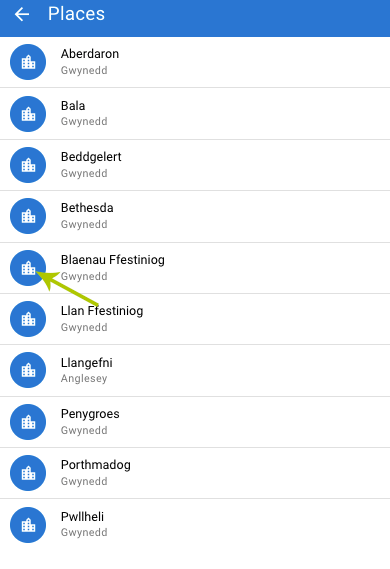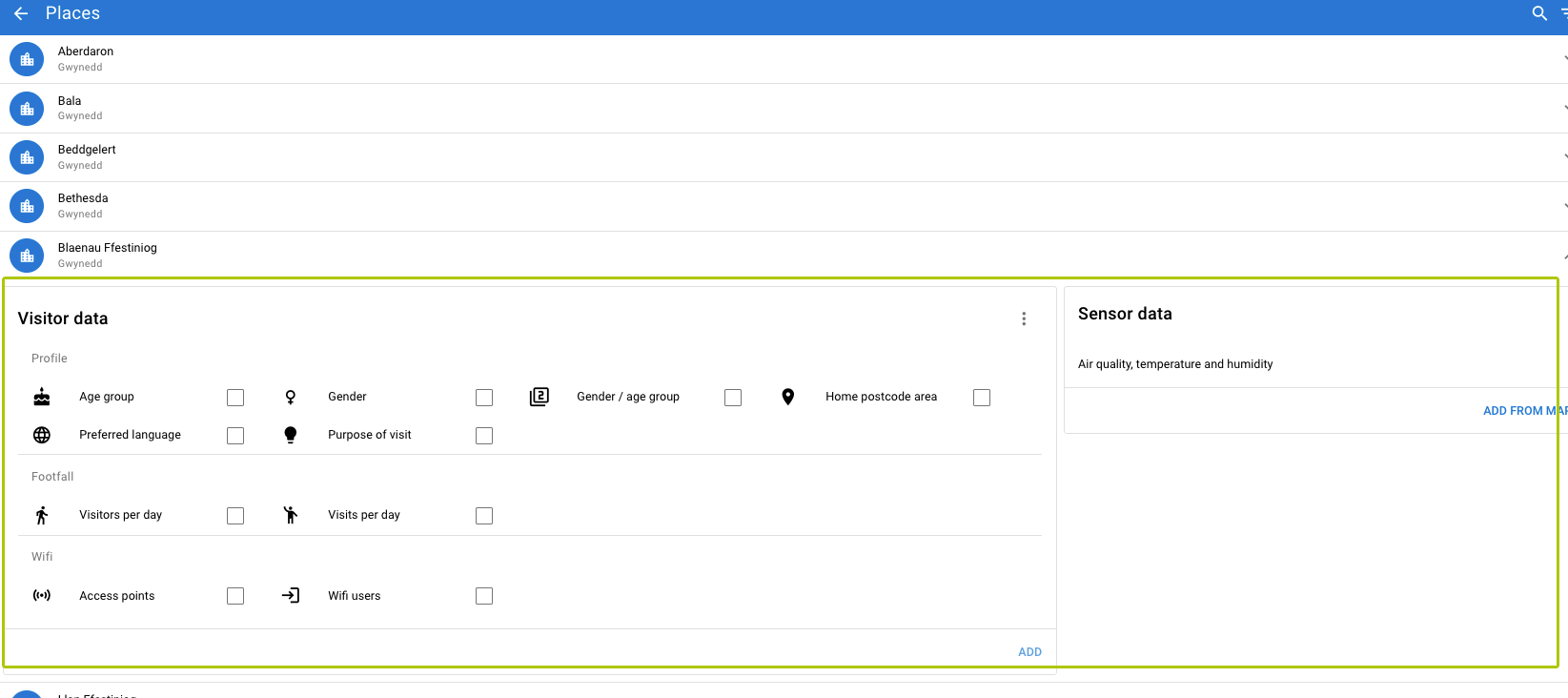 To remove a card select REMOVE at the bottom right of the card.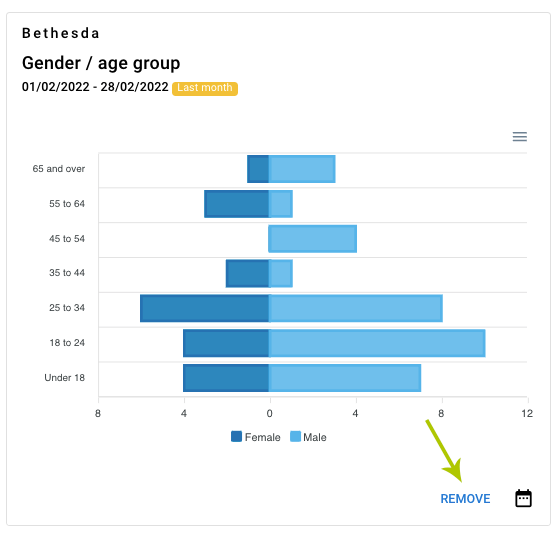 If you want to see cards siting neatly above one another e.g. if you have chosen two cards for each place and you are using a laptop or tablet, make the browser window narrower and it will rescale to show two cards per row.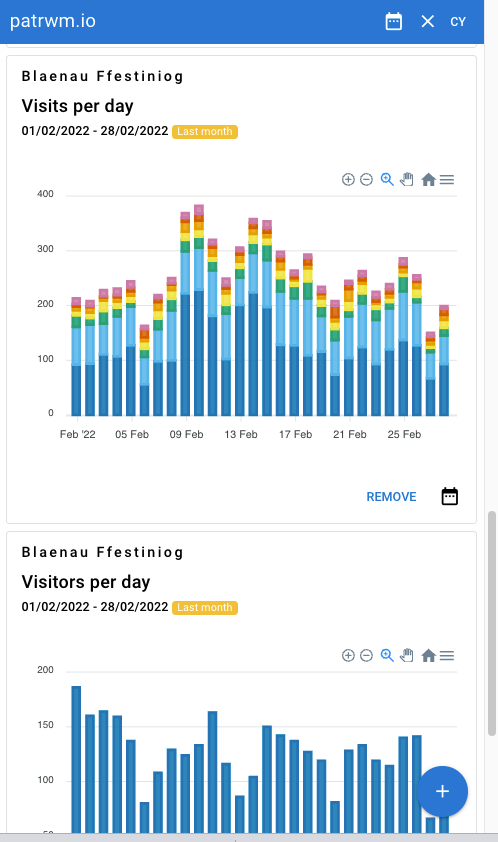 DATA COLLECTION BY PORTH
Porth is our secure bilingual WiFi login portal. We ask visitors who sign into the free WiFi to answer five questions and this information is collated and visualised by Patrwm.
From the Porth WiFi login portal we collect data for each smart town or smart place. These are the five questions that the WiFi users are asked:
Age range (e.g. 25-34)
Gender
Purpose of visit (select from a list)
Preferred language (so that we communicate with them in their language of choice, Welsh or English)
Home post code area (e.g. LL57)
We collect the user's email address with their confirmation that they accept the terms and conditions of usage and that they have consented that their personal information can be processed by Menter Môn and it's partners.
We then aggregate this data for each day and send it from Porth to Patrwm to display against each location. All data from Porth is anonymised before it goes to Patrwm.
No personal information forms part of the aggregated data.
COUNTING FOOTFALL NUMBERS
Patrwm uses data recorded by our WiFi access points that are installed in each smart place.
All digital mobile devices, when not already connected to a WiFi network, are broadcasting discrete messages declaring their unique id (called a mac address). This is how your device connects instantly to your WiFi when you get home. Your device is saying "Hi my name is XYZ123" when you arrive home your WiFi router recognises this and promptly connects the device.
When you are out and about and not connected this is what your device is doing. We collect these numbers and then randomise them using a process called hashing and salting - which makes the process secure and Patrwm cannot get back the original mac address.
At the end of the day Patrwm totals up how long this device was in the network. If the hashed and salted ID stayed in a smart town network for 37 minutes we would then add this to the 30-60 minute count.
When we finish aggregating the hashed and salted addresses that day's data is deleted and Patrwm just keeps the final totals/counts. This helps us ensure that we do not hold any data that might be deemed as personal for any longer than is required in order for us to process it. We do not keep any backups of the raw, hashed and salted data. Only the processed aggregated data is backed up.
Patrwm displays data from yesterday back to when the network was originally installed. Today's footfall data will be available to view tomorrow.
Counting the number of devices is not the same as counting the number of people, but it is a good indication to help better understand patterns of activity in an area over time and during the course of a day.
Please note the gender breakdown does not necessarily match the footfall data, but it can give a useful indication.
CAPTURE SENSOR DATA
We treat sensor data differently. We capture it frequently i.e. particulate data is being measured and stored in real-time every 20 seconds. We store this data in its raw format for 3 to 5 years.
At the end of each day we process the sensor data and rationalise how this is visualised so that sensor data from the last week might show down to every 5 minutes, then for every hour. The raw sensor data is stored on the cloud for future use.
Our sensors are normally battery powered and use LoRaWaN (long range wide area network) to transmit data securely back to Patrwm. Where the sensors are open source we always aim to send their data back to the original project as well as Patrwm. Our particulate and sound level sensors will always send data back to the sensor community system as well as Patrwm.
We are currently working on supporting a wider range of sensors including:
Bin sensors
Weather sensors
Sound level sensors
Parking sensors